Rural Women Take Power Over Poverty
Tuesday, 25 October, 2016 - 08:52
The future health and well-being of the Earth and its inhabitants is largely in the hands of rural women. Our job is to make sure they have the tools and training they need.
"Empowering rural women is crucial for ending hunger and poverty. By denying women rights and opportunities, we deny their children and societies a better future." - United Nations Secretary-General Ban Ki-moon.
We at Heifer International have seen this truth unfold over nearly 70 years of working with farmers around the globe. I stated last month, if we fail women farmers, we will fail to feed the world. Today is the United Nations' International Day of Rural Women, which has been observed on October 15 since 2008.
During the month of October, we are highlighting on Heifer's World Ark Blog our work to empower women in a series called the Power of We. Many of the women we work with are becoming entrepreneurs and leaders in their communities.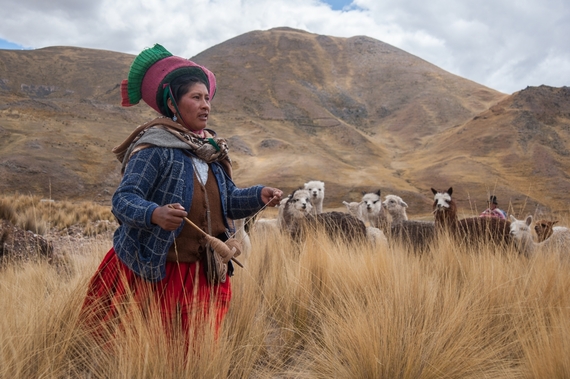 Elizabeth Villanova of Puno, Peru, spins wool while tending her alpaca flock. Photo by Annie Griffiths for Heifer International, courtesy of Ripple Effect Images.
In a recent post on Forbes.com, several female American entrepreneurs were highlighted for their business success and work-life balance. Erin Albert, author of Single. Women. Entrepreneurs, is quoted, saying: "'They're designing individually the best life they can have for themselves-not just the best job.'"
I believe the same applies to many of the rural women who participate in Heifer's projects. They're not trying to create or climb a "corporate ladder;" they're trying to do the best by their families and their communities. They seek genuine power over their own circumstances, to no longer live at the mercy of poverty and hunger. Our role at Heifer is to facilitate this process and provide the training and skills that do just that: give them the power to conquer the poverty into which they were born.

Elizabeth Villanova adapts to modern devices after a lifetime of poverty. Photo by Annie Griffiths for Heifer International, courtesy of Ripple Effect Images.
Elizabeth Villanova of Peru is an outstanding example of the determination of one woman to improve her life and that of her son, and taking a community of women and girls with her. She said, "There is no strength alone. When many of us come together, then there is strength."
Watch how Elizabeth-undereducated and born into poverty-is turning her handiwork skills into a business and passing that knowledge on to the next generation of girls in this video by Rick Gershon for Ripple Effect Images:
We were honored to have Annie Griffiths and her Ripple Effect Images crew, including Pulitzer Prize-winning filmmaker Rick Gershon of Media Storm Productions and Renee Harbers, president of the Harbers Foundation, document our project in Puno, Peru. You can find Ripple Effect Images on Facebook and Twitter and at rippleeffectimages.org